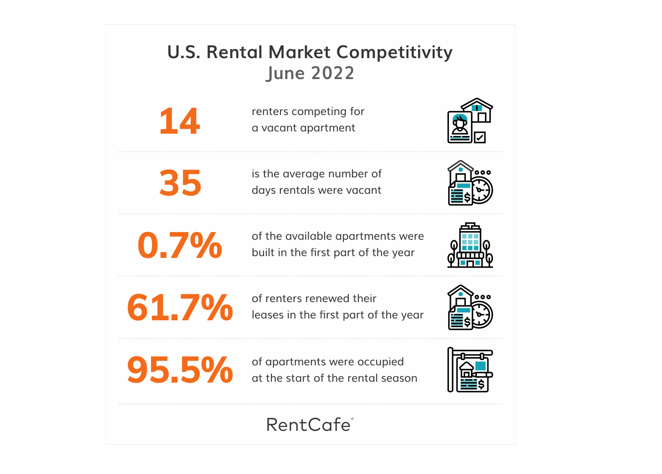 A look at the 100 largest markets in the U.S. shows where the most competitive rental markets are and what is driving the competition, according to research from RentCafé.
Using Yardi proprietary data, RentCafe looked at how many days rentals were vacant in the first part of 2022, occupancy rates, the number of renters competing for an apartment, share of renters who renewed their leases and how much the apartment inventory increased.
Here's what RentCafé found:
Competition intensifies as more renters opt to stay put. Nationwide, almost two-thirds of renters renewed their leases. Amid a soaring 95.5 percent occupancy and a modest 0.7 percent increase in inventory, a vacant apartment was filled within 35 days on average, with 14 renters competing for it.
Whole regions across Florida are red hot with competition. In Miami-Dade County, three quarters of all leases got renewed, and 31 renters competed for the same apartment, in a market that is 97.6 percent occupied. While the apartment supply grew by almost 2 percent, this was not enough to stem the tide of renters moving here. What's more, Orlando and Southwest Florida are facing the same situation.
In the Northeast Harrisburg, PA ranks 2nd nationally, as no new apartments were built in the first half of the year. Other highly competitive locations in the area are Rochester, NY, and some of the best alternatives to renting in NYC: North and Central Jersey.
Certain locations in the Midwest are in the top 20. The hottest markets here include Grand Rapids, MI; Milwaukee, WI; Omaha, NE; and suburban Chicago. Securing an apartment in the fast-growing Grand Rapids will require some effort. With only a few units built in the first part of 2022, almost all rentals are occupied. The average vacant unit got filled in 32 days, and 18 prospective renters competed for an apartment here.
Orange County became California's most sought-after market as LA renters on tight budgets went searching for better options. The area boasts a more relaxed lifestyle, cheaper entertainment, and a thriving economy with better job opportunities, as O.C. is home to many Fortune 500 & 1000 companies that are on the lookout for skilled professionals. No less than 20 renters compete here for one apartment, while the occupancy rate is a sky-high 97.5 percent.
Why Competitive Rental Markets?
The wave of migration to Florida during and after the pandemic is one reason for the big jump in Florida lease competition.  Good weather, low taxes and good employment opportunities also are a reason.
Also in some markets the lack to any new apartment availability has led to the competition.
For example in Harrisburg no new apartments were opened between January and April prompting about 75 percent of renters to stay in their existing apartments, creating a highly competitive environment for anyone seeking to find rent. As a consequence, the average rental unit was filled in just 36 days, and as many as 19 renters competed for an apartment here.
"More and more house hunters are starting to feel the strain of surging inflation and mortgage rates. As a result, they are delaying or completely giving up on their dream to become homeowners, which puts even more pressure on the apartment market," RentCafé writes in the report.