Can you renovate a rental property on a shoe-string budget is a three-part series by Hank Rossi, our Ask Landlord Hank, a veteran landlord and property manager, on his rental renovation how to reduce material costs and labor.
By Landlord Hank
So in Part 2 the floor was finished and it looks fabulous. Here is part three is the final result.
The baseboards in the bedrooms had to be removed and they fell apart in doing so. I found killer deal on Craigslist for brand new baseboards.
Later that week I bought five, six-panel doors to replace damaged doors in my unit for $10 each. Also needed an exterior door-$25 on Craigslist.
I had my maintenance supervisor in Atlanta load up his truck from our supply warehouse (my basement) and bring down five new windows, (from the house being torn down), a new HVAC condensing unit (one was not working), nice lever door handles (yard sale), etc.
He put in baseboards, hung new doors and painted both sides of the duplex and laundry rooms.
Kitchens were too small so I moved the refrigerator
The kitchens were small and not really very functional-no microwave or dishwasher and not enough prep area or storage.
I decided to move refrigerator to other side of the room and put some cabinets around it.
I found a large cabinet on side of the road!! It worked perfectly and was in great shape. I picked up another from a yard sale and it was a perfect match with cabinets.
On the other side of the duplex, we did the same thing.
I had a friend in charge of a kitchen remodel and I picked up some nice cabinets for free. Moving the refrigerator to the other side of the room left space for a dishwasher and microwave and now the kitchens were large and well equipped.
I picked up some scrap granite and fitted it on top of the dishwasher. New yard sale lights and ceiling fans and now kitchens are almost finished.
I had a couple of drawers repaired, all cabinets sanded and stained. Voila! A nice, new kitchen.
Craigslist also provided a nice granite topped vanity for bathroom ($150). Windows were put in on the left and finishing touches were done.
My neighbor at this property is a landscaper. He also does other related side jobs. He fenced my yard, left side and rear, with fence he had replaced on a job. I stained it all and now we have a private space.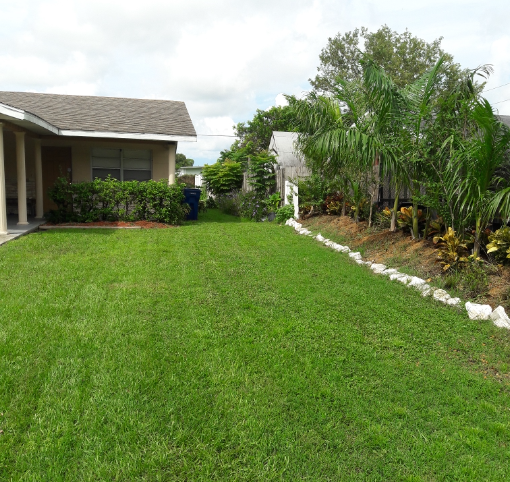 My wife found a Publix grocery store that was re-doing landscaping. We took two truck loads of just removed plants and since she loves gardening it was a no-cost install – well, a backrub and dinner!
Total cost for the renovation of a rental property on a shoe-string budget
Flooring tile and labor – $1,400
Baseboards – $100
Doors – $75
Paint and labor – $700
Termite damage wall and beam – $1,200
HVAC condensing unit which was in my storage – labor $350
Vanity $150
Two dishwashers, two microwaves, one stove and one refrigerator – $475
Labor in kitchen for cabinet installation, repair of existing cabinets, sanding, staining, dishwasher and microwave installation, granite counter tops over dishwasher – $650.
Window installation for five windows I already had – $750
Blinds – $400
Fencing installation and staining – $1,025
Three ceiling fans which came new in box from a friend who changed his mind –  $100
One water heater from garage sale -$40 and from Craigslist $50, installation – $100
$1,000 for miscellaneous which was: A few tiles replaced in bathroom surround, new stems and handles in bathrooms, replacement of water cut offs inside and out, medicine cabinet, lights, some switches and outlets, all new door locks, professional cleaning and extermination
Landscaping-free and sweat on our part
Total $8,565
This renovation could easily have cost $30,000 for the scope of work and great result.
Some folks would say I was lucky to have already in stock so many needed replacement items-HVAC condensing unit, windows, etc.
I'd say that is a combination of luck and planning ahead.
I'm very pleased with the renovation results and the overall cost.
We did quality work which should keep the money rolling in on this building for many years.
So how did it go with the tenants?
Note from Hank:  I rented my two bedroom side. I took the 7th applicant-the others either didn't make enough money, had poor credit, or rental history or criminal history. The rent on the two- bedroom is $975 and the three bedroom rents for $1050. The three bedroom folks just renewed so I left the rent at $1050. Tenants pay all utilities and I take care of landscaping.
See finished product below:
Ask Landlord Hank Your Question
Ask veteran landlord and property manager Hank Rossi your questions from tenant screening to leases to pets and more! He provides answers each week to landlords.