Can you renovate a rental property on a shoe-string budget is a three-part series by Hank Rossi, our Ask Landlord Hank, a veteran landlord and property manager, on how to reduce material costs and labor.
By Landlord Hank
Can you renovate a rental property on a strong-string budget? Yes, it can be done and come out great!
The easy way to renovate is to hire a designer, architect, general contractor and tell them what you want and make your choices for colors, material etc.
Then you wait for the finished product.
That is never how I've used my budget.
Champagne results on a beer budget to renovate a rental property
I want champagne results on a beer budget. I've been pleased with results and the tenants have too.
This is going to be a multi-part article on how to reduce costs on material and labor and where not to cut costs, if you want a good and safe outcome.
Real life is a little different from what you see on TV.
You don't walk in the door on the first day and start swinging the sledge hammers.
If you are going to knock down walls and destroy kitchens, preparations need to be done first.
TV shows don't show someone disconnecting the plumbing fixtures and making sure the water cut offs are really keeping the water off before the sledge hammers are knocking down cabinets and breaking thru countertops.
Your refrigerator may be connected to a water line for the ice maker-it has to be pulled out gently to check and be disconnected, if needed.
Not fixing to flip – but fixing for cash flow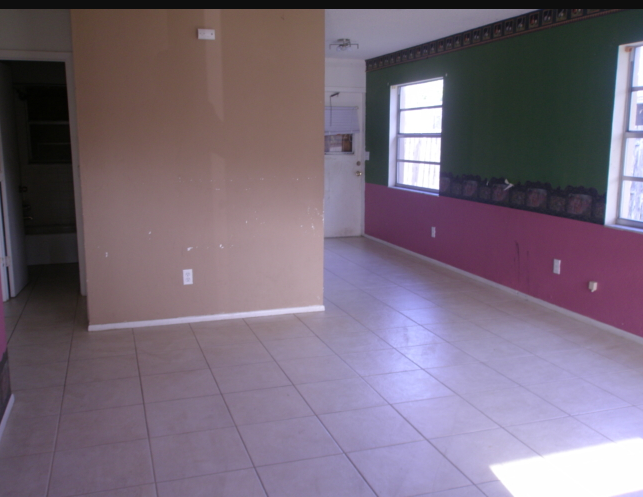 Most of the shows on TV are concerned with flipping houses and getting top dollar.
I'm not going to flip my property.  I've bought a money-making machine with my investment. Why would I sell that only to buy a bigger and better one?
One way I cut costs is to work with the existing floor plan.
Work with the existing floor plan to renovate a rental property
I'm not moving walls and creating open-concept living.
The properties I buy are themselves usually distressed, but in a decent and desirable location.
So how can you save money with a renovation?
There are several avenues one can use to control the bottom line and keep costs low for both labor and materials.
If you are skilled and have the time to do the job, you can do some of the work yourself. If you are not particularly skilled but have the time, you can learn from watching others do the job (on you-tube, if necessary).
Or, you can take classes at big box stores for all kinds of do-it-yourself projects..
Or, you can start with something small. For me it was door knobs and deadbolts.
I could take off the old ones, see how they were installed that way and read the directions in box from new ones and successfully do that little job. You have to start somewhere!
In my opinion, most folks can paint if they have the surface properly prepared for paint and make the effort to do a good job and have the right paint for the job (ask where you are buying paint, make sure it is fresh (new) and shaken.
Paint is the single biggest job that a novice can do to renovate a rental property while making a huge statement about your property.
You want to find a color that will appeal to the most tenants, and do a good job. Painting needs to be done after any construction is already finished but before carpeting is laid (you'll probably have to touch up).
Find a talented handyman
You'll also want to find a talented handyman that has the time and skill to devote to your project.
He doesn't have to do every job but should be able to do many facets of the work needed.
You may need an electrician, HVAC contractor, or plumber, too.
So start asking friends and family who they've used and would recommend-then check references and work.
What about material for you property? This can be a huge expense depending upon source.
I want to walk you thru a relatively recent acquisition and renovation. It was a light job. The property had a relatively new roof, is block construction so it is solid. This property is a duplex-3 bedrooms and 2 bathrooms on the left and 2 bedrooms 1 bathroom on the right. There is a laundry room off the car port. Here are some before photos:
Here is what I was facing in my renovation of a rental property
This is what I knew was needing repair or replacement at time of purchase from my own inspection and my home inspectors report.
Termite damage to porch and front wall of laundry room.
Boarded up windows and doors.
Vandalized paint on the exterior and interior of the property.
Filthy carpeting in all five bedrooms
Sheet rock damage to walls
Doors with holes in them
One AC condensing unit worked (kind of-this is the outside portion of the AC system)
Kitchen cabinetry damaged-some door fronts missing, etc.
One missing hot water heater and one non-functional one.
Falling down fence around sides and rear of property.
Missing appliances in one unit-the other had a functional stove and refrigerator.
No dishwasher or microwave, nor place for one in either kitchen.
Wall tiles missing in bathroom tub surround
Leaking master bathroom shower (into master bedroom) with attendant mold issues.
Stripped and leaking bathroom shower handles and diverter valve ( the middle shower handle that controls if water goes to spout or shower head).
Both circuit breaker panels were good and functional
The plumbing drains all worked and didn't leak.
The property was well laid out with good floor plans and rooms were of good size.
I had my renovation planned out after closing
After closing, I had my renovation planned out, with my mind always on the bottom line.
First, I wanted to stop any more possible damage and deterioration.
I knew the roof wasn't leaking. So that everything is safe from the rain, except the boarded up and broken window. Also there was the plumbing leaking into walls and mold.
I kept the water to the plumbing fixtures off and repaired the windows first. Luckily the windows themselves were not damaged. The glass had been broken and since it was single pane glass, I could easily repair myself.
I removed old glass and glazing from the broken windows, carefully measured, went to a big box store, had glass cut to fit, replaced the glass and reglazed. That job was done on first day.
I also replaced all the blinds with one-inch mini-blinds. They are inexpensive. They look good and are easy to install.
Next we cut into the wall by the leaking shower. How did I know where to look?
The mold growing on the outside of the wall was a big clue. Found out the shower was leaking due to missing grout between the tiles on the wall.
This was an easy fix. Then the mold cleaned up properly and after lots of testing over a couple of weeks the wall was closed up.
I didn't want my new property looking like it should be condemned so I bought some matching paint for the exterior and painted over the vandalism. I picked up all the trash and cut the grass and trimmed bushes.
Now the property looked decent from the street. There were no windows boarded up. The signs of vandalism were gone. The property neat, clean and well groomed.
Next up on renovating a rental property on a shoe-string budget
Next time, we move forward with the renovation and now I have to buy appliances, flooring, doors, trim, molding, light fixtures, ceiling fans, paint, etc.
If you go to the big box stores for these purchases that is certainly an easy way and maybe the only way to get what you need but are there options that could save you a ton of cash?  Yes!
Read Part Two In The Series:
Ask Landlord Hank Your Question
Ask veteran landlord and property manager Hank Rossi your questions from tenant screening to leases to pets and more! He provides answers each week to landlords.