The number of real estate multifamily jobs in the apartment sector continues to grow, as more than 37 percent of  vacant real estate openings in the United States were in the multifamily sector during the second quarter of 2021, exceeding the five-year average of 33.2 percent, according to the latest report from the National Apartment Association (NAA).
"As the apartment market continued its recovery during the second quarter with surging rental rates and occupancy high, the demand for multifamily professionals stood strong," the NAA's Educational Institute said in the quarterly jobs report.
"Renter demand for apartments climbed considerably because of the recovering economy," the report said. "According to RealPage, annual units absorbed reached 496,542 during the quarter. Solid apartment demand fueled rent growth, in turn allowing multifamily companies to hire additional professionals. As of June, effective asking rent increased 6.3 percent year-over-year, recording the largest annual rent growth since early 2001."
Property management, leasing, and maintenance job openings declined year-over-year, yet administrative positions increased by 1.1 percent. Dallas, Los Angeles, Washington, D.C., Denver, and Seattle ranked highest for apartment job demand.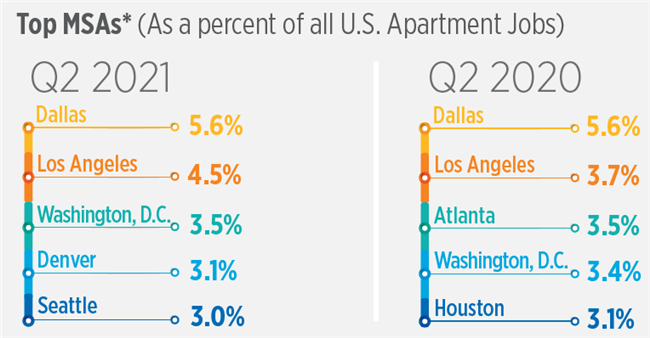 Student housing slow in preleasing
For the student-housing sector, job openings were most prevalent in Austin, Columbus, Gainesville and Tallahassee.
Leasing consultants were the most sought-after position by employers, despite a decline in preleasing activity. According to Yardi Matrix, as of April, "preleasing for the fall 2021 semester is trailing prior years. Preleasing stood at 58.6 percent, 4.2 percent below the same time last year and 5.8 percent lower than 2019. As more students become fully vaccinated, preleasing rates are expected to improve," the report said.