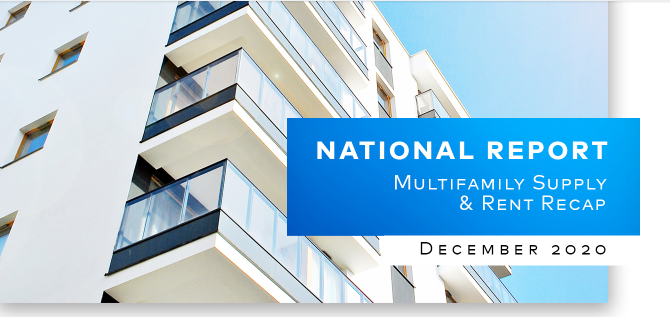 Rent declines led to multifamily rents ending the year relatively flat with a slight downward tilt, but the extreme division between expensive gateway markets and their neighboring lower-cost metros continued into December, according to Yardi Matrix's national multifamily supply and rent recap.
The year "2020 will go down as the year COVID-19 changed everything. As the pandemic became rampant, many initially feared that rents would rapidly decline. But many metros have emerged from 2020 unscathed, and some have even enjoyed significant rent growth. Others have not been so lucky, especially expensive coastal markets," the Yardi Matrix report says.
Multifamily rents declined by 0.8 percent in December on a year-over-year basis, a 30-basis-point decline from November and the seventh consecutive month of declines.
Overall rents declined by $4 to $1,462, giving December the largest one-month decline since the beginning of the pandemic, when overall rents dropped by $5 in April.
On the bright side, California's Inland Empire rents grew by 7.3 percent year-over-year.
Sacramento rents grew by 6.1 percent year-over-year.
Job Loss and Remote Work Cause Rent to Fall
"Throughout 2020, the differences in rent growth between expensive coastal markets and their lower-cost neighboring metros continue to grow," the report says.
"One of the main reasons for this has been the mass exodus out of the gateway markets. The driving factor out of these markets has been job losses. Most of these job losses have been concentrated in tourist-centric industries like restaurants, nightlife and entertainment.
"As gateway markets are some of the most expensive to live in – and with job losses disproportionately impacting service workers – it became impossible for many to pay rent, so the only choice was to move.
"Another contributing factor to the mass exodus is the ability for employees to work remotely. With most amenities in these urban areas closed, the desirability of living in an urban setting and paying high rents has been lost," the report says.
Summary
"When the pandemic first began, many predicted a rapid decline followed by a very strong V-shaped recovery. Nine months in, however, we are still on shaky economic ground. By the second half of 2021, the vaccine-distribution process across the U.S. should be coming to an end, and we can begin the road to full economic recovery," Yardi Matrix said in the report.
About Yardi Matrix:
Yardi Matrix researches and reports on multifamily, office and self-storage properties across the United States, serving the needs of a variety of industry professionals. Yardi Matrix Multifamily provides accurate data on 18+ million units, covering more than 90 percent of the U.S. population. Contact the company at (480) 663-1149.