August national rent growth was 0.5 percent, half the rate of growth compared to last month, according to the September report from Apartment List.
The slowing of rents in August fits more of the traditional rent growth patterns that existed before the pandemic.
"Rents increased in 79 of the nation's 100 largest cities in August. But in 68 of those 79 cities, rent growth was slower this month than last month. Annual rent growth remains elevated (15+ percent) in Florida, as well as a handful of major metropolitan areas including San Diego and New York City," the report says.
Slowing Rent Growth May Help Slow Inflation
So far in 2022 rents are up 7.2 percent, compared to 14.8 percent at this point in 2021. Year-over-year growth has slowed to 10 percent, down from a peak of nearly 18 percent at the beginning of the year, the Apartment List report says.
The 17.6 percent rise in rents over the course of 2021 has contributed to inflation in housing costs.
"With inflation top-of-mind for policymakers and everyday Americans alike, our rent index is particularly relevant, since movements in market rents lead movements in average rents paid. As a result, our index can signal what is likely ahead for the housing component of the official inflation estimates produced by the Bureau of Labor Statistics. Thankfully for the country's renters, our index shows that rent growth in 2022 has cooled from last summer's peaks. At the same time, however, rents are continuing to rise faster than they did in pre-pandemic years."
Slight Uptick in Vacancy Rate
On the supply side, a deceleration in rent growth was matched with a slight uptick in apartment vacancies.
"Our vacancy index stands at 5.1 percent today and has gradually eased from a low of 4.1 percent last fall. That said, today's vacancy rate remains below the pre-pandemic norm, which may be attributable to spiking mortgage rates that continue sidelining first-time homebuyers and keeping more households renting for longer," the report says.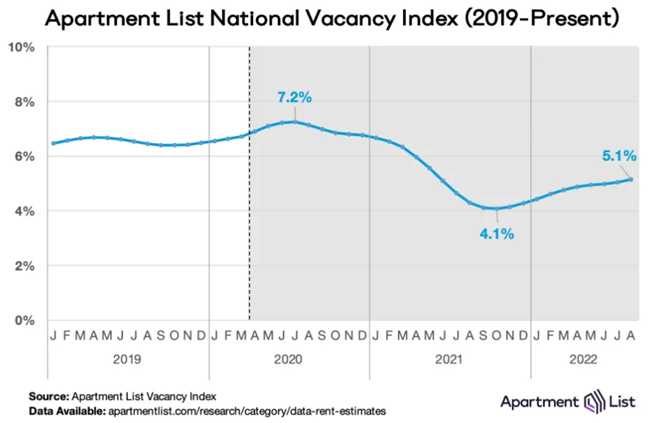 Conclusion
"With a 0.5 percent increase in August, rent growth is continuing to pace ahead of pre-pandemic trends, even as it decelerates and falls in-line with expected seasonality. As we enter the fall and winter months, we expect rental activity will continue to slow and we will likely see modest price decreases in the coming months," the report says.