Renters living in smaller multifamily properties have lived in their units for one year longer than the average renter, and are slightly less likely to have plans to move out over the next year, according to a new survey from Buildium and Propertyware.
The survey of properties with two to four units is designed to help property managers understand what it is that keeps small multifamily renters in place from year to year, and what will attract new renters to their properties in an environment where they're frequently competing with more amenity-rich apartment buildings.
While smaller multifamily properties often provide affordable alternatives in more centrally located neighborhoods, the Renter's Survey found some may be unhappy with their current rental.
The survey shows 40 percent of small multifamily renters feel certain that they'll renew their lease this year—and an additional 33 percent are on the fence.
Neighborhoods where smaller multifamily residents live tend to be in areas with older properties "because multifamily construction has focused on larger apartment projects since the 1980s," the report says. This includes neighborhoods in Boston, Chicago, Portland and others.
Why Smaller Multifamily Properties Appeal To Renters
While these smaller properties represent only 14 percent of rental properties across the country, they play an important role in housing.
Here are some key reasons why:
They allow low- and middle-income renters to live in neighborhoods close to jobs, schools, and other resources by splitting land prices, property taxes, and other costs across multiple units at more affordable price points than newer apartment buildings provide.
They give renters access to some of the comforts of a home without leaving centrally located neighborhoods. "In comparison with apartment building residents, the small multifamily renters we surveyed place a higher premium on living in a property that offers private outdoor space and the option to have a pet; and on living in neighborhoods that are safe, quiet, family-friendly, and lower-density," the Buildium report says. But in comparison with single-family renters, they're willing to sacrifice a little space to keep work, school, stores, restaurants, and transportation options within arm's reach.
They provide renters with more space than apartment buildings, but less than single-family rentals. "In our survey, households living in small multifamily rentals had an average of two to three occupants living in properties with two to three bedrooms, providing them with a space that's larger than in a typical apartment building (which house an average of two renters in 1- to 2-bedroom units), but smaller and more affordable than most single-family rentals (with an average of three renters living in three-bedroom properties)."
Smaller Multifamily Properties Attract Individual Real Estate Investors
The survey found that two-to four-unit properties present a lower barrier to entry for aspiring rental property investors.
As a result, more than three quarters of small multifamily properties were owned by individual investors rather than larger investment firms in 2015.
"In our 2022 survey of small-portfolio rental owners, we found that 41 percent of small multifamily owners only own a single rental property," the survey says.
Who Lives In Smaller Multifamily Properties?
Small multifamily properties have households that are slightly larger and are more likely to contain couples, children, and adult family members.
These properties also house a slightly larger percentage of couples without kids than other property types do.
Many Smaller Multifamily Properties' Renters Plan to Stay
The retention rate in these properties is stronger than most.
The survey says 40 percent of small multifamily renters plan to stay put for the next year—4 percentage points higher than the rate among renters overall.
"Overall, however, renters seem to be feeling greater uncertainty about whether or not to move than they have for the last few years. This is particularly true for younger renters, as rapidly changing conditions in the rental and housing markets impact the affordability and availability of potential homes," the survey says.
How Renters Prefer to Communicate in 2022
"When it comes to how renters want to be able to get in touch with their property manager, email remains the most popular method on the whole.
"However, we've seen text messaging rise up the ranks over the last year, particularly among young and middle-aged adults; and in fact, within small multifamily properties, text messaging is now residents' contact method of choice," the survey says.
Get the full survey report from Buildium here.
 About the smaller multifamily properties survey:
Buildium says, "In our Annual Renters' Survey we survey more than a thousand renters across the U.S., with recruiting assistance from Survey Monkey. This year's survey (conducted in April 2022) gathered the perspectives of 1,569 renters of all ages and living in a variety of rental property types, though this report focuses exclusively on those living in rental homes with between two and four units."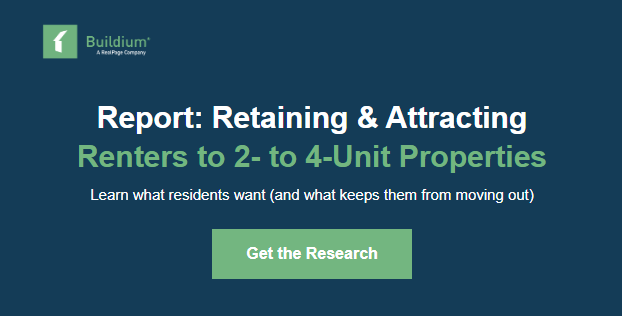 About Buildium.com
Buildium is the property management solution that helps real estate professionals win new business from property owners and community associations seeking services. Backed by expert advice and relentless support, Buildium enables you to outperform across all facets of your business with intuitive software that balances power, simplicity, and ease of use. Buildium services nearly 13,000 customers in 46 countries, totaling over one million residential units under management. In 2015, Buildium acquired All Property Management, a leading online marketing service for property managers, making Buildium the only company to give property managers a way to acquire new customers and increase revenue.