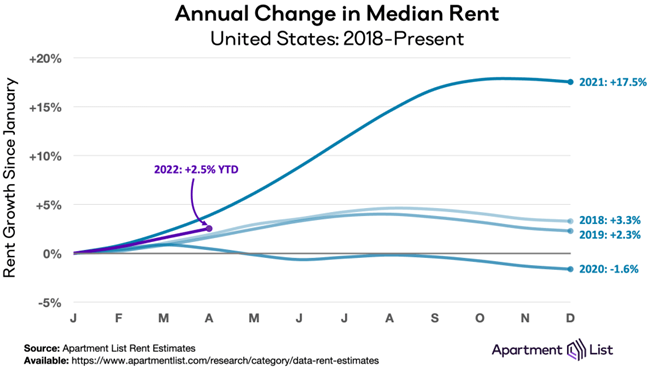 National rent growth continued upward with a national index increase of 0.9 percent over the course of April, according to the latest report from Apartment List.
While rents are growing more slowly than they did in 2021 at this point in the year, they are still growing faster than in the years immediately preceding the pandemic.
In April, rents were up in 93 of the 100 largest cities.
Year-over-year national rent growth currently stands at a staggering 16.3 percent, but most of that growth took place last spring and summer.
"Over the first four months of 2022, rents have increased by a total of just 2.5 percent, though we're only beginning to enter the busy season for the rental market, when the bulk of annual rent growth typically occurs," according to the Apartment List Research Team.
"Even if prices don't rise as rapidly as they did in 2021, it's likely that this year will continue to bring rent growth in excess of the pre-pandemic trend," the report says.
Vacancy remains low entering the busy rental season
"As we've explored in detail, much of the 2021 rent boom was attributed to a tight market in which more households were competing for fewer vacant units.
"Our vacancy index spiked above 7 percent at the onset of the pandemic in 2020, as many Americans moved in with family or friends amid the uncertainty and economic disruption of the pandemic's onset. After that, however, vacancies began a steady decline, eventually falling below 4 percent," the report says.
After bottoming out at 3.8 percent last August, "Our vacancy index slowly ticked back up for seven consecutive months, until dipping slightly this month. Our index fell from 4.7 percent in March to 4.6 percent in April.
"We should be hesitant to put too much stock into a single data point, but it's possible that as we enter the traditional busy season for the rental market, the gradual easing of our vacancy index may begin to level off. The vacancy situation remains historically tight, and even if it were to continue gradually easing, it will likely be some time before we get back to the pre-pandemic norm."
Miami Continues As King of Rent Growth
The Miami metro has seen the nation's fastest growth over the past six months (+7 percent), nearly tripling the growth rate of the national index over that period.
The Miami metro also ranks No. 1 for year-over-year rent growth, and No. 2 for growth since March 2020.
Conclusion
"As we enter the spring and summer months, rental activity is likely to pick up, and rent growth is likely to accelerate. Despite a recent cool-down, many American renters are likely to remain burdened throughout 2022 by historically high housing costs," the report says.