Yardi Matrix says in a new research bulletin that investor demand and multifamily sales are continuing to evolve in 2023.
Multifamily property sales continued to shift toward secondary tech markets in 2022, as volume waned in the fourth quarter due to rising acquisition yields and pricing uncertainty.
This Yardi Matrix bulletin examines the prospect for deal flow in 2023 and what needs to happen for market activity to return.
Paul Fiorilla, Director of Research, Yardi Matrix, writes that at the moment deal flow is stalled by pricing uncertainty and multifamily investors are increasingly focused on markets with growth in jobs and population which is where investor demand and interest is.
Multifamily Sales Drop In Second Half Of 2022
First-half 2022 volume was 60.4 percent above the first half of the 2021 record year. But volume in the second half of 2022 was 51.8 percent below the same period in 2021, with fourth quarter 2022 volume 70 percent below the fourth quarter of 2021. Rising interest rates were a big impact.
"The pricing uncertainty has created a large bid-ask spread between buyers, who are taking higher financing costs and projections of an economic downturn into account, and sellers, who are loath to accept what they perceive as a discount," Fiorilla writes.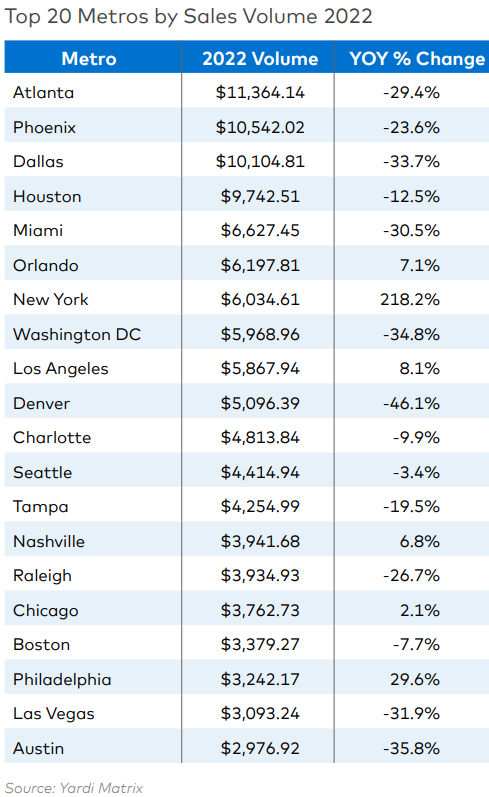 Now most apartment owners are holding on to properties unless there is an urgent reason to sell.
"Indeed, the biggest question the market faces is not whether we will see more distressed assets but by how much distress will increase. Banks have become conservative with the prospect of a widely projected economic downturn, so borrowers are facing both rising rates and less leverage," the report says.
"As most economic scenarios contain mixed blessings for deal flow, volatility may be the most critical factor for transaction activity.
"Transaction activity will pick up when market conditions return to some semblance of stability and market players believe they can underwrite with a higher level of certainty than exists today," Fiorilla writes.
About Yardi Matrix
Yardi Matrix researches and reports on multifamily, office and self-storage properties across the United States, serving the needs of a variety of industry professionals. Yardi Matrix Multifamily provides accurate data on 18+ million units, covering more than 90 percent of the U.S. population. Contact the company at (480) 663-1149.