The 2022 renter preferences survey report shows that renters have been on the move over the past 18 months and clearly seek more space in their living arrangements.
And, more telling is that a quarter of respondents who moved reported that their moves were due to a shift to remote work during the pandemic, according to the 2022 Renter Preferences Survey Report from National Multifamily Housing Council and Grace Hill.
"In general, renters are teleworking with higher frequency than ever before. And there's little expectation of that changing. In fact, nearly two-thirds (64 percent) of survey respondents said they expect to be teleworking about the same amount over the next year as they are now. This shift is driving demand for home offices and meeting space," the report says.
Renter Preferences Survey Report Hot Trends and Key Findings
1. Demand for more space
"Lockdowns seemingly led to a strong desire for additional space; twenty-eight percent of renters who said they intend to move to a different rental community when their lease expires cited "additional living space" as a reason, up from just 19 percent two years ago.
2. Washers and dryers, air conditioning, soundproof walls and high-speed internet
"Now, more than ever, home is proving to be a sanctuary, and renters have a great desire — and are willing to pay a premium in additional monthly rent — for certain amenities. Reported must-haves include: washer/dryer in-unit (92 percent of renters interested, $54.73 monthly premium), air conditioning (91 percent, $54.73) , soundproof walls (90 percent, $46.21), high-speed internet access (89 percent, $47.93) , and walk-in closet (88 percent, $43.46).
3. Package delivery increase
"The share of renters who received two or fewer packages per month dropped from 45 percent in 2019 to just 24 percent this round, while the share who received three or more packages per month increased from 55 percent to 76 percent over the two-year period," the report says.
Renters want choices
"Our survey asked residents what types of rental homes they considered during their last home search. While traditional apartment homes garnered a majority of responses (57 percent), townhomes and single-family rentals were also in the mix at 23 percent and 19 percent of responses, respectively.
"There were also strong correlations between what type of rental home they ultimately ended up in and their preferences for features and amenities like storage solutions, fitness centers and package management," the report says.
Interest in smart home technology
Renters' interest in smart home technology is tied to its ability to add convenience or drive savings. Survey results show that the most popular smart home feature for renters is a smart thermostat, with 70 percent of respondents saying they were interested in or wouldn't rent without this feature.
Smart sensor technology is also feeding renter interest in leak detection systems (67 percent) and water-saving features (67 percent).
Also connectivity is an issue with reliable cell service and internet service a requirement.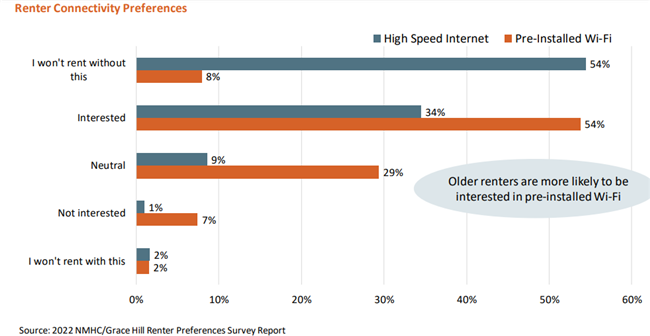 "Reliable cell phone service ranked as the No. 1 community amenity, with 86 percent of survey respondents indicating interest. Renters are even more serious about their internet connectivity, with nine out of 10 respondents saying they were interested in or wouldn't rent their home without it."
Renter preferences survey: pet-Friendly amenities
Roughly one-third of renter respondents indicated they lived with a pet or service animal.
Dogs are proving to be a renter's best friend, with 70 percent of pet owners indicating their fur babies were dogs.
The preference is driving interest in—and premiums for—four-legged friendly amenities like community dog parks, pet washing stations and on-site pet services like doggy daycare and grooming.
Moreover, survey results show that pet breed restrictions may be falling out of favor with renters, with 77 percent of respondents indicating that pet breed restrictions would either have no effect on their leasing decisions or would make them less likely to rent a property with restrictions in place.
Noise-related issues continue to be a problem
Noise remains a leading environmental pollutant at rental communities, detracting from renters' wellbeing and living experience.
"As a result, renter interest in sound mitigating tech in windows and walls remains sky high. In fact, soundproof walls are the third most popular home feature after air conditioning and an in-unit washer/dryer, with 90 percent of respondents indicating they were interested or wouldn't rent without them."
A renter preference for outdoor space also
"Renters have long put a premium on private outdoor space like patios and balconies, as well as other community outdoor amenities.
"Nationally, nearly three-quarters (73 percent) of the renter preference survey respondents indicated strong interest in a community pool, with the strongest interest levels coming mostly from fairer climates in the Southeast and Texas. Geography also factored into interest levels around amenities like rooftop space and common area barbecue grills as renters in higher density areas in and around some of the nation's leading cities showed stronger interest levels," the report says.
About the renter preferences survey:
"Our team conducted the survey in September and October 2021. Web-based surveys were distributed to more than 1 million residents. Along with the national report, metro-level reports are available. To qualify, each market needed at least 150 responses from five properties and at least two participating firms."  A total of 221,559 renter responses were received.
Get the full report here The 2022 NMHC/Grace Hill Renter Preferences Survey Report is Now Available