Inflation has spoken "loud and clear" says a new report and operational efficiencies that can reduce costs are now the top challenge for rental property owners and property managers.
The National Apartment Association (NAA) along with AppFolio conducted a survey for their Property Management Industry Report of more than 2,000 property management industry professionals in April 2023.
Key Points From The Survey
The top challenge facing housing providers was operational efficiencies, which comprised 76% of responses.

The most challenging activity within this group was reducing costs, as cited by 57% of respondents.
Although inflation has eased in recent months, insurance and property taxes have been skyrocketing in recent years, while costs of capital and wage increases are adding to the upward pressure on costs.

Operational efficiencies were followed closely by maximizing revenue and profits (61%) and HR, staffing and recruitment (42%).
The results mark a significant contrast from 2021, when HR, staffing and recruitment was reported as the top challenge for apartment professionals at 74%.
"Across the country, monumental cost increases – from insurance premiums and utilities to property taxes – are impacting operations for housing providers who by and large operate on narrow profit margins," NAA President and CEO Bob Pinnegar said in a release.
"This year's survey importantly elevates the voice of property management companies and provides important takeaways for the kinds of solutions the industry can implement to ease these challenges and remain viable for generations to come."
This year's results notably reveal a significant change from how owners and operators ranked their most pressing concerns in 2021. Two years ago – amid record-breaking rent growth and historic demand for apartment living – property management professionals ranked HR/staffing/recruitment as their top challenge (74%).
"Inflation has spoken loud and clear in this year's survey, touching many of the industry's most pressing challenges," NAA Vice President of Research Paula Munger said in the release.
"This doesn't mean that the industry's labor woes have disappeared, but it is a testament to the impacts of a high interest rate and high inflationary environment."
The Challenge Of Maximizing Revenue
"New supply pressures in some markets coupled with a dip in demand caused mainly by an uncertain economic climate are behind the lackluster rent growth, which is negative in some markets, so it's not surprising that strengthening alternative sources of revenue came in fourth place
"In addition to a focus on top-line revenue, industry leaders are also maintaining margins by negotiating with suppliers, adjusting bonus programs, or changing suppliers altogether.
"Others are using incentives for on-site teams, including maintenance staff, and tying bonuses to resident retention. Some said they were willing to prioritize stable occupancy over rent growth for the remainder of the year, and to that end are not being overly aggressive on renewal increases.
"A big concern in minimizing expenses is to not dilute the resident experience in the process — an outcome that may prompt renters to look to move elsewhere and take advantage of concessions increasingly being offered in some markets," the report says.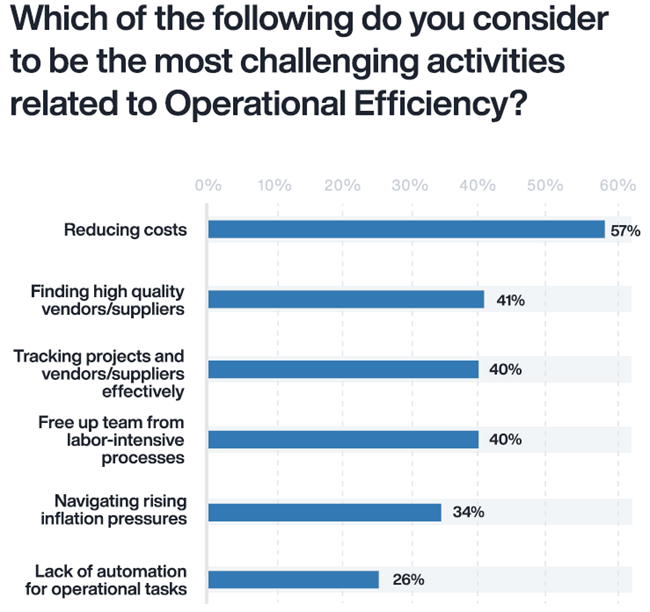 Some closing thoughts from the report
"With inflation moving in the right direction and recession fears receding, owners and operators may see relief on the horizon for some of these challenges. The many non-economic challenges, however, may very well continue, highlighting the need for all rental housing stakeholders to work together in finding solutions to keeping the industry responsible for housing millions of Americans vital and profitable," the report says.