After a few months of cool down, national rent growth is now back on an upward trend, according to the March report from Apartment List.
The rent-growth gain of 0.6 percent in February month-over-month in national rents reversed the slowing rents over the past few months, in which total rent growth was just 0.7 percent.
Plus, the most recent month's rent growth was still faster than the pre-pandemic norm for this time of year.
"Even though month-over-month rent growth has moved back into positive territory, it remains substantially cooler than last summer, when rents grew by more than 2 percent per month for four straight months," write housing economists Chris Salviati, Igor Popov, Rob Warnock, and Lilla Szini.
"As we enter the spring and summer months, it's likely that rent growth will speed up amid increased moving activity. Even if prices don't rise as rapidly as they did in 2021, we're already seeing signs that 2022 will be another year of above-average growth."
Vacancy Rate Continues To Climb
The report says the vacancy rate has continued to climb but that increase "has been modest and gradual."
Vacancy still remains historically tight. "Over the past six months, our vacancy index has been increasing by an average of 0.1 percent per month. If that pace continues, we won't hit a vacancy rate of 6 percent – the pre-pandemic norm – until next summer. Nonetheless, the gradual increase in vacancies in recent months has likely been contributing to the slowdown in rent growth."
Fastest Growing Metros
Major markets throughout the Sun Belt have experienced virtually-uninterrupted rent growth since the start of the pandemic.
The following table shows rent growth for the ten metropolitan areas that have experienced the fastest rent growth over the past six months, over the past year, and since the pandemic started in March 2020.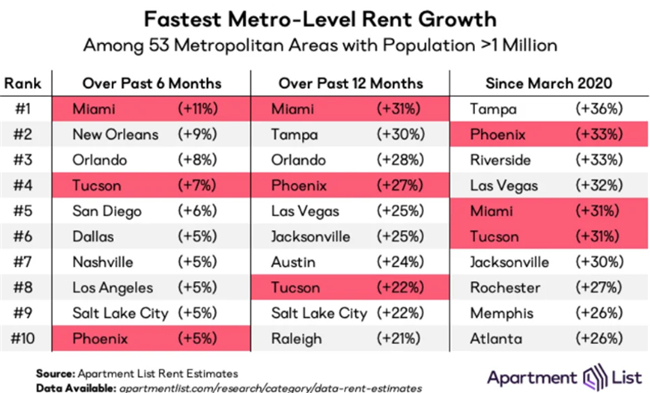 National Rent Growth Summary
Apartment List reports that while rent growth has cooled from last summer's peak, "it continues to exceed pre-pandemic trends. While the apartment market has shown some signs of easing, our vacancy index still sits at 4.5 percent.
"As we enter the spring and summer months, rental activity is likely to pick up, and rent growth is likely to accelerate … Many American renters are likely to remain burdened throughout 2022 by historically high housing costs."