Up to 90 cents of each dollar paid for rent go towards taxes, wages, mortgage payments, and maintenance and improvements, while only 10 cents belong to owners and investors, according to the Yardi Matrix Covid-19 Rental Housing Support Initiative.
In their blog, RentCafé says the American Rescue Plan signed by President Biden on March 11 "brings much-anticipated relief to millions of American families, both renters and housing providers."
Rent debt estimated at almost $60 billion has built up since the start of the pandemic and RentCafé says the new stimulus package "may trigger a butterfly effect across local communities. Since many housing providers operate on thin margins, the recently approved stimulus package will help fill the gap in cash flow and keep afloat an industry that provides housing for 40 million Americans."
According to the Urban Institute and Moody's Analytics estimations, the average resident who's behind on rent already owes $6,000. With approximately 10.25 million renters in debt as of January 2021, the back rent reached an estimated $57.3 billion.
Rent checks go back into the local economy  
The report from RentCafé includes a chart showing the largest part of every dollar of rent is used to keep rental housing operational, as 90 cents of it go towards state and local taxes, which support essential services in the community, employee wages, maintenance and improvements, and mortgage payments. Just 10 cents go to property owners and investors.
"This means that each dollar paid as rent, besides keeping renters safely housed, is also a contribution to the local economy. Rent checks are reinvested in the community in the form of taxes, worker salaries and maintenance for buildings," the report says.
Mortgage payments take up the largest chunk of rent, 38 cents.
"The majority of small owners depend on this money, according to data from the COVID-19 Rental Housing Initiative, as 59 percent of them carry a mortgage, and many of them operate on thin margins," the report says. "Rents in properties owned by mom-and-pop landlords are typically lower than in larger, amenity-rich communities. So, by helping families pay the rent, the federal assistance fund would in fact support these owners, who otherwise might default on loans."
Due to the potential economic impact of the outstanding rent debt, rental industry associations "believe that more needs to be done to avoid turning the public health crisis into a housing crisis, especially now, with so much uncertainty around the economic recovery.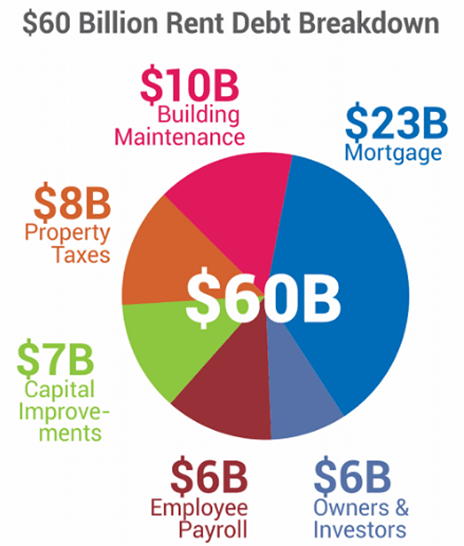 "A robust rental-assistance program will keep people safely housed and ensure that apartment communities remain operational long into the future," the report says. "Renters and landlords alike depend on the health of the rental housing sector. This is why Yardi committed $1 million to the COVID-19 Rental Housing Support initiative, a newly launched platform backed by four major associations serving the rental housing industry: Institute of Real Estate Management (REM), National Apartment Association (NAA), National Multifamily Housing Council (NMHC) and National Association of Residential Property Managers (NARPM)."
Find out more about the support initiative here.