The pandemic, a shortage of workers and soaring materials costs have not deterred the apartment construction market, which has maintained a steady pace despite these challenges, according to a study from RentCafe.
"The pandemic shifts and resurgence of the residential-rental market brings new residential supply into focus," said Doug Ressler, manager of business intelligence at Yardi Matrix, in the report.
"Lack of entry-level housing supply and rising home prices will show the multifamily rental market demand increasing as new renters enter the market and millennials extend their rental commitments," Ressler said.
"More precisely, 334,000 units are projected to be opened in the U.S. by the end of this year, according to Yardi Matrix estimates. These figures reflect the striking difference between the aftermath of the pandemic crisis and that of the housing crisis of 2008.
"In 2021, there were nearly three times more apartments under construction than there were in 2011," the report says.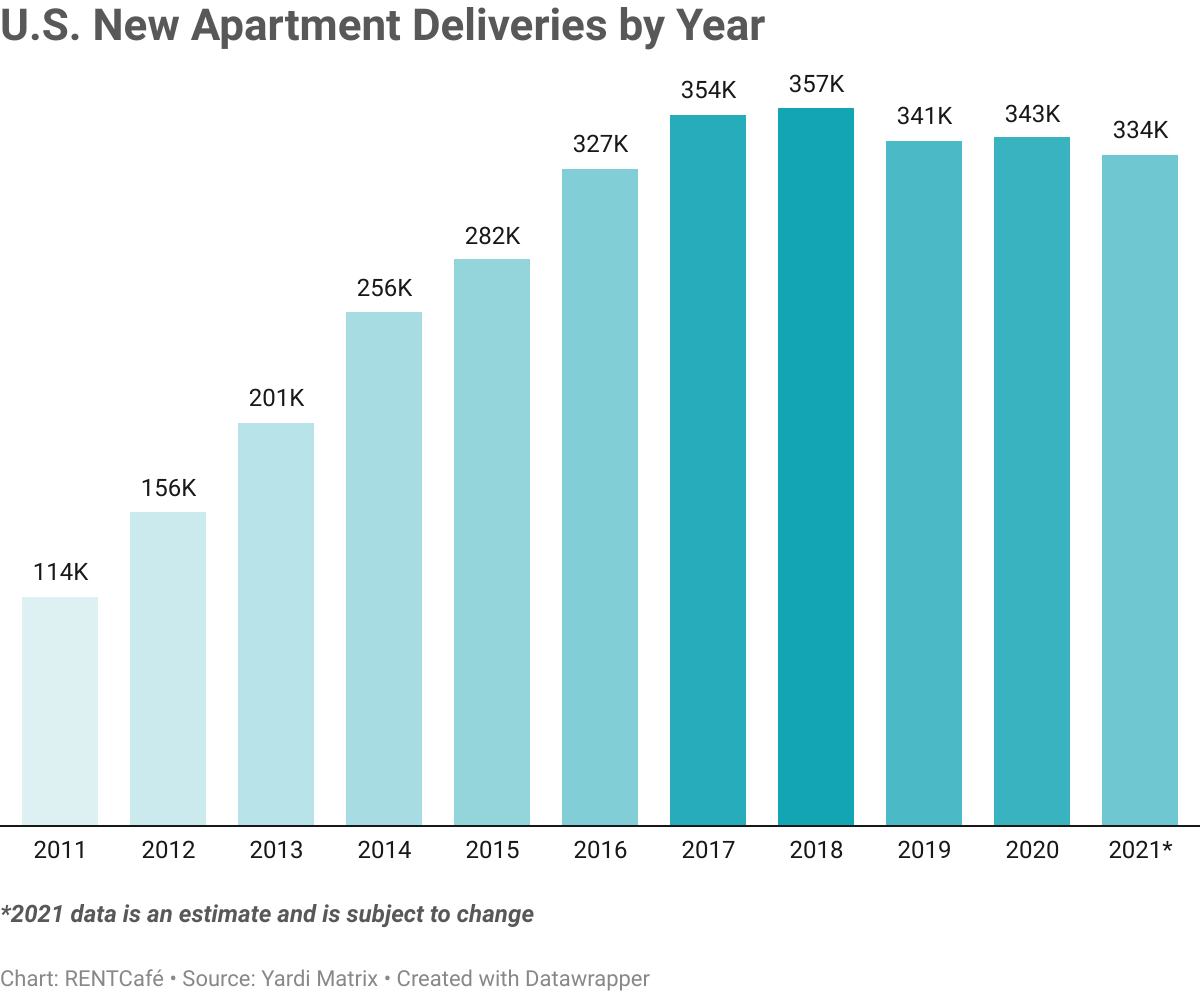 Here are the main drivers of apartment construction this year:
Eight metro areas out of the top 20 are expected to hit a five-year high in apartment construction. Among these are two newcomers to the top builders' club – the metro areas of Kansas City, Mo., (4,967 units), and Raleigh, NC (4,836 units).
There's a trend shift compared to last year. In 2020, 13 metros out of the top 20 experienced decreases in apartment construction. This year, only six out of 20 metros are seeing drops.
The Dallas-Fort Worth metro area is the torchbearer of apartment construction for the fourth year in a row. Renters can rejoice knowing there are 21,173 new units in the pipeline, to be available on the market by year end.
A welcoming sight: New York metro returns to pre-pandemic levels, with 19,375 projected units. The area is expected to see an 11 percent increase in apartment construction compared to last year.
Phoenix is one of the surprising markets this year, claiming the No. 3 spot nationally. A much-needed supply of 15,846 units is planned here, creating 76 percent growth compared to 2020.
Charlotte, NC is witnessing a boom, with a 100 percent increase in apartment construction. The projections show 10,723 apartments to be delivered this year. Orlando, FL is another promising market, with 78 percent growth, projections at 8,211 units.
5-Year High in Phoenix and 7 Other Metros
Of all the metros analyzed, eight are set to hit their peaks in apartment construction this year compared to their totals from the last five years.
First up is Phoenix, the most notable metro, which is projected to build 15,846 new units this year — considerably more than its deliveries in past years. Currently witnessing a housing boom and a population increase of 2.1 percent, the metro is set to meet the demand for new apartments in the area.
"The strong demand fueled by robust inbound migration and employment growth" is the reason we're seeing such high levels of construction in these markets, according to Ressler. "The Southwest market which meets both these conditions is Phoenix. In addition, Phoenix zoning and availability of land is adding to the attraction."