If you're a landlord, investor, or property manager, chances are that you've seen your fair share of software options–and that each of them claims to be the best in its own way.
In a market that offers no shortage of big claims, the first step in choosing the best software for your portfolio is to draw clear parameters around what it means to be "the best" in the first place–and to deduce what each software company means when they claim the title for themselves.
A great rule of thumb to use if you're not sure about where to start is this: the best software is the kind that strikes a balance between extensiveness and ease of use. The platform you choose should have a full suite of powerful features without sacrificing user experience. After all, having a million super-advanced features is pretty much useless if they're impossible to find, learn, and use.
DoorLoop property management software is one of the fastest-growing software options in the real estate space. It's also said to be the highest-rated. Today, we're taking a closer look at DoorLoop to determine whether its claim of being the "easiest software on the market" actually holds up. Let's get started.
Subscription Pricing
With 3 subscription packages, DoorLoop offers flexible pricing for portfolios of different sizes. It's important to note that the software charges by number of units, not number of users, so accounts can have as many user profiles as needed at no additional cost.
Starter Plan
Cost: $49/month (billed annually, $59/month billed monthly)
Users: Unlimited at no extra charge
Units: Unlimited (note: price goes up when over 20 units)
Full suite of accounting features
Mobile app
Document storage of up to 50 MB per unit
RapidRent online payments
Tenant portal
eSignatures
Pro Plan
Cost: $79/month (billed annually, $99/month billed monthly)
Users: Unlimited at no extra charge
Units: Unlimited (note: price goes up when over 20 units)
Includes all of the features in the Starter plan, plus:

Owner portal
One-click data exports
User access roles
Bank reconciliation
Custom dashboards
Community-wide accouncements
Online advertising and CRM
QuickBooks sync

Document Storage: up to 5 GB per unit
Premium Plan
Cost: $109/month (billed annually, $139/month billed monthly)
Users: Unlimited at no extra charge
Units: Unlimited (note: price goes up when over 20 units)
Unlimited document storage
Includes all of the features in the Pro plan, plus:

Integrations and access to DoorLoop's API
Free incoming ACH payments
VIP status for Support
Website portal integration
You're welcome to take a closer look at DoorLoop's pricing plan here.
Intuitive Interface
Ease of use is one of DoorLoop's most talked-about features, and that's for good reason. The company is relatively new, and this modernity shows in the software's interface. The platform is bright, uncluttered, and very easy to navigate. All of the software's features are clearly labeled and easy to navigate to from the main dashboard. It also features a Quick Search option, which allows users to access any feature, property, unit, task, or document in seconds.
DoorLoop's goal is to make support as unnecessary as possible through an intuitive interface and easy-to-adopt features. With that said, the software's support is another one of its strengths. Support specialists respond to messages within 24 hours, and their live chat response time is a couple of minutes during the company's business hours.
Oversee All Your Listings
DoorLoop's goal is to facilitate every aspect of the property management process, which includes listing and advertising properties. The platform integrates with the top listing syndication software online in order to maximize the visibility of users' listings. These platforms include Apartments.com, Zillow, StreetEasy, Trulia, and more.
Users can collect applications from these syndication sites, or from the listings on their own custom website, directly on DoorLoop. You can also use DoorLoop to manage the applications that you do receive. This means being able to screen tenants in one click in order to filter through the best candidates.
 Manage Tenant Applications
You can bring in applications on autopilot with DoorLoop, whether they're coming in from third-party listing websites or from your own custom website. You'll be able to see all of these applications in your account's "Prospects" section. From there, you can move forward with screening, accepting, or rejecting tenants as you see fit.
Rental application templates are built into the software, offering all of the basic must-have information for your tenants to fill out (name, address, employment, salary, etc.). You can also customize your application with all of the questions and fields you'd like to include. You can also charge tenants an application fee to cover screening and administrative fees, plus collect the payments automatically through DoorLoop when you connect your bank account to the software.
Screen Your Tenants
Tenant screening features are offered by DoorLoop through their integration with TransUnion. All tenant screening includes the following:
Criminal background check
Eviction history
Bankruptcy search
Sex offender database search
You can run all of these checks with just one click using the information that your tenant has filled into their application. Tests are $40 each, and you can choose to charge this amount to your tenants via your application fee (depending on your state, you can also charge a higher application fee in order to make a profit).
Manage Leases
DoorLoop allows you to manage your lease agreements from beginning to end. Its lease management features include:
Uploading lease templates of your choice and storing them within the software for repeated use
eSignature requests and management
Document storage
Setting lease terms, including rent fees, recurring charges, automatic interval-based late fees, pet rent, renewals, rent increases, and more.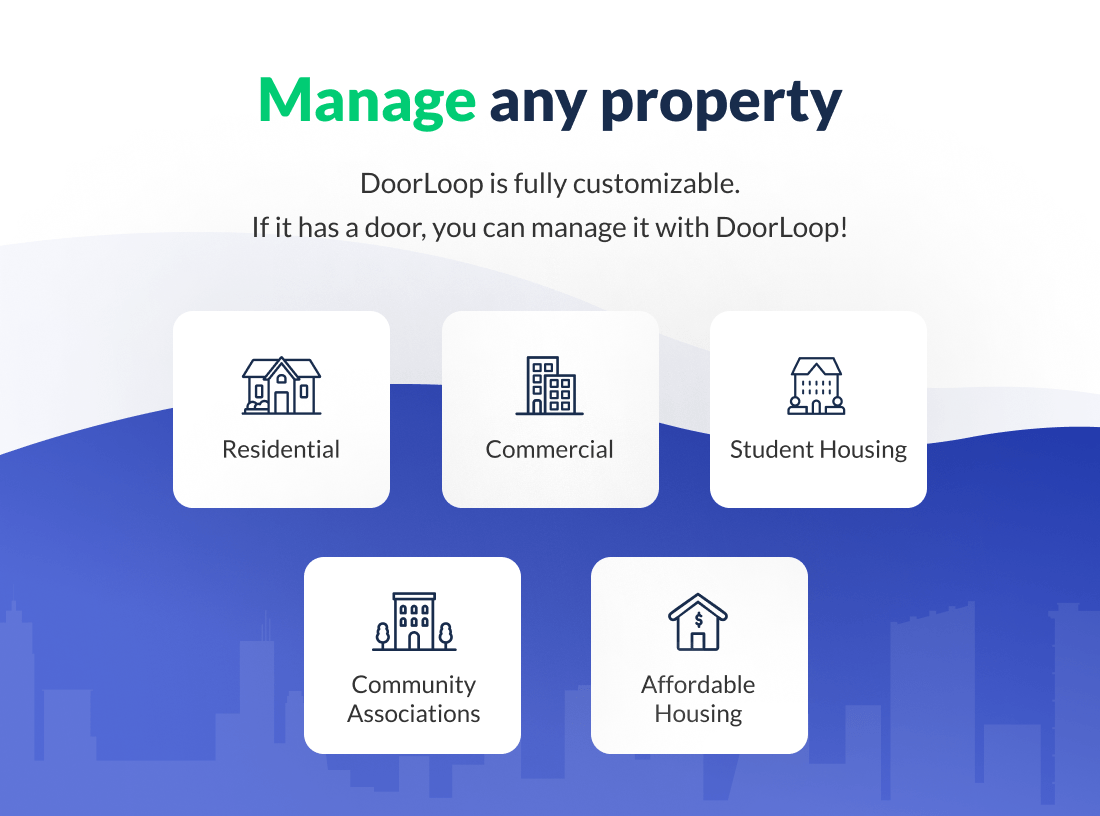 Get Paid Automatically
With DoorLoop's RapidRent feature, you can collect rent from tenants automatically. The software's payment features don't stop there. They also include:
Automatic payment reminders sent to tenants at intervals of your choosing
Determine the amount, frequency, and triggers for late fees, then automatically apply them to any lease
Track all of your paid, due, and past due payments right from your dashboard
Get notifications about any missed, late, and completed payments.
It's important to know that users will be charged a one-time $49 fee to set up their online payment account. Though this fee is not refundable if you are approved to process payments, it will not be charged for any denied merchant accounts.
Tenants are the ones who pay any processing fees for credit cards and debit cards (2.95% of the amount being paid), and ACH payments ($1.99 flat fee). Account holders don't have to worry about paying any fees themselves.
Click here to learn more about getting paid through DoorLoop.
 Tenant Communication
DoorLoop's secure tenant portal makes it easy to send announcements to tenants individually or to all of your tenants at once. You can also share documents, send payment reminders, and receive maintenance requests from your tenants in seconds.
The tenant portal is protected by 256-bit security encryption, which is the same level of security used by banks and the military. This means you can rest assured that all of your messages and sensitive files are fully protected.
Messages, documents, and requests can also be shared with owners and investors through a similar portal. Additionally, DoorLoop accounts can be created for owners so that they can be sent any tasks, payments, or updates directly.
Maintenance Management
One of DoorLoop's most popular set of features is its maintenance management suite. Users can receive maintenance requests from tenants directly through the tenant portal. Once that has been received, work orders can be created.
Work orders include all of the relevant information needed about the task at hand, the vendor associated with the task, the urgency of the task, and the task's due date. You can create DoorLoop accounts for all of your vendors and send them the work order request in one click. You can also track every step of the work order's progress until it is completed. When completed, you can pay vendors directly through the software in order to make sure your working relationship remains both positive and productive.
 Full Accounting Suite
If you already use QuickBooks Online, you don't have to worry about a learning curve you don't want. DoorLoop integrates directly with QuickBooks Online, which eliminates double data entry and makes it easy to stay on top of your transactions.
With that said, DoorLoop also has its own built-in suite of accounting features that do everything QuickBooks can do (and more). Accounting features include:
Customizable chart of accounts
Advanced reports, including 60 built-in templates
Bank account reconciliation
Export data in one click
 Mobile App
DoorLoop has a mobile app available at no additional cost, and it has the same functionality as the desktop version of the software. This allows users to stay on top of everything, whether they're in-office or across the world.
It's easy to see why DoorLoop is the highest-rated software in the world. With that said, the only way to tell whether it's the right choice for your business is to see it at work for yourself. You can sign up for a demo of DoorLoop and get 50% off your first two months on the software by clicking here.