An analysis of actual rental prices and applications shows a 10 percent drop in rental applications in the 2020 rental season, as the pandemic motivated renters to stay in their apartments, according to RentCafe.
RentCafe analyzed renter activity from more than five million applications for leases, and rents charged in more than 17 million apartments for their 2020 Year-End Report.
"With such a challenging year, we wanted to present the best perspective on the rental market by analyzing actual prices and applications, which unlike data from online searches or listings can bring an additional level of detail and accuracy regarding renters' plans," the report says.
The pandemic hindered moving plans in 16 of the nation's 30 largest cities, as the number of applications for apartments in these hubs went down compared to the previous years.
"We are also witnessing important changes in the fabric of the rental market. A new cohort of renters, Generation Z, is now the second most active group of renters, overtaking Gen X-ers, while the front-runner generation of Millennial renters is shrinking. In terms of moving, there was an increase in renters who decided to move out of some large cities in 2020, including Detroit, New York and Seattle," the report says.
Also, with the pandemic raging, the national average rent stagnated this year at $1,465 as of November. Rents decreased or stagnated in 18 of the 30 largest U.S. cities, and increased in 13. For example, Seattle saw prices drop the third fastest, by 8.5 percent, while Phoenix's average rent is still going strong, registering the most significant yearly surge among the nation's 30 largest cities.
Some highlights of the report on renters
Gen Z officially became the second most active renter generation after millennials and was the only cohort to see an upward trend in movement this year. Twenty-three percent of this year's applications came from Gen Z renters, surpassing Gen Xers.
Renter income stagnated for the first time in three years, hovering around $38,400, the same as in 2019. Middle-income renters (25K – 50K) were the only ones who moved more in 2020 than in 2019.
Renter activity slowed down in 16 of the nation's 30 largest cities. Memphis saw the most significant decrease in the number of applications, -21 percent, followed by Chicago with -16 percent. At the other end, there is Detroit and New York City with 23-percent and 15-percent increases in rental applications, which isn't always a good thing for a city, see why below).
Eighteen of the 30 largest cities saw more renters leaving compared to 2019. Detroit (36 percent), Oklahoma City (34 percent), and New York (25 percent) saw the highest increases in the number of renters moving out of the city.
The priciest cities for renters saw the sharpest drops in rent. San Francisco apartment prices plummeted to $3,055 after a 17.3 percent decrease year-over-year. Manhattan ($3,761) came in second with a 10.8 percent drop.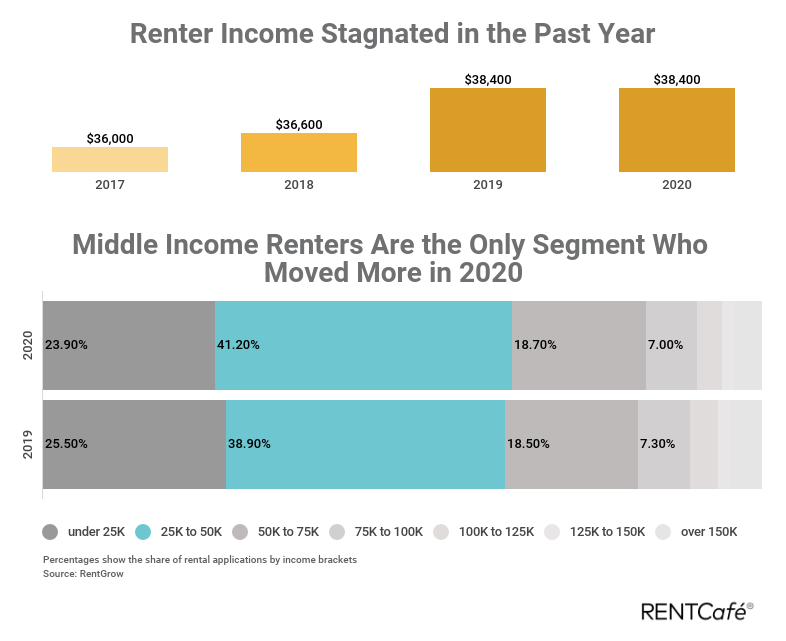 18 of the 30 Largest U.S. Cities Saw More Renters Leave This Year
"We looked at renter activity from three angles: renters moving out of a particular city, renters moving within a city, and renters moving into a city," RentCafe said in the report.
"There has been much speculation around the topic (of) whether people are leaving dense large cities for more space elsewhere in the context of the pandemic. As far as renters are concerned, this trend confirms for a handful of the nation's largest cities.
This year, 18 of the 30 largest U.S. cities saw more renters leaving compared to 2019. Furthermore, half of the largest cities registered more pronounced activity in terms of renters moving out of the city rather than renters moving in."
Rental application and apartment data were sourced from RentGrow and Yardi Matrix. You can read the full report here: https://www.rentcafe.com/blog/rental-market/market-snapshots/year-end-report-2020
RENTCafe.com is a nationwide apartment search website and a part of Yardi. Our original city-based research, insights, and in-depth analysis of the real estate market have been used in stories featured on major media publications across the U.S.