Renters are changing, and the properties and property managers of the future are going to have to be increasingly flexible to adapt to evolving renter needs, says Buildium in its 2020 Renters' Report.
Property managers are already starting to see the trends: They must adapt to more roommates, different household types, pets, and other changes that focus on renter needs.
Also, higher-income renters who are professionals have become more common, along with seniors.
Less about granite countertops, more about customer service
"Renters also have higher expectations than ever—though not in the areas you might expect," Buildium writes in the report.
"Property managers have been feeling pressured to offer the latest amenities as luxury developments pop up in neighborhoods across the country. But attracting renters in 2020 is less about the flashy appeal of pools and granite countertops—particularly in the current economy.
"Instead, it's more about delivering a level of customer service that makes renters feel as though their needs have been taken into consideration in the place they call home," the report says.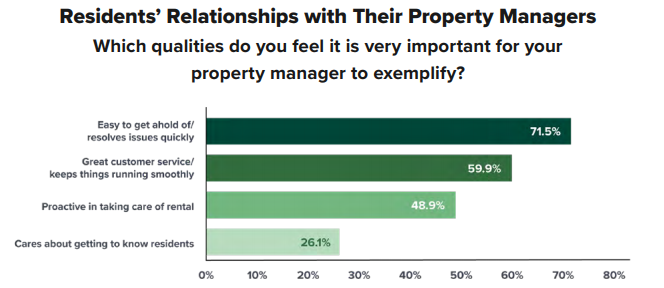 Some highlights of the renter needs report
Among the 1,188 renters who took the Buildium survey, two in five definitely plan on renewing their lease for another year—a number that stayed constant from 2018 to 2019. Only 27 percent say they are definitely moving.
Reasons for renting vary by generation. Some simply cannot afford to buy where they are and have to rent because it is more affordable. Others, such as seniors, want the convenience of not having to maintain a home.
"Renters' desire to own a home of their own varies logically by age," the report says. "Gen Z residents are happy renting for now, but assume that they'll want to become homeowners down the road. Millennials and Gen X renters are highly interested in homeownership, but are waiting for the right time to buy. Baby boomer residents are largely former homeowners who either prefer to rent or have financial reasons for doing so at this time in their lives."
Technology renters need is not fancy thermostats
The report says that while technology interest has grown by 7 points over the past year, renter needs are not about fancy gadgets like thermostats or door locks.
"The biggest gains in interest among renters were in applying for rentals online (+15 points), communicating with their property manager via text or email (+11 points), and signing leases and other documents electronically (+8 points)," Buildium says. "Baby boomers are far more interested in technology than they were just a year ago. On average, interest in rental technologies has grown by eight points among Gen Xers and 10 points among baby boomers."
Also, most renters want to pay their rent with a credit card, debit card, or electronic payment of some type, instead of paying with a check.
"Residents of all ages appreciate having the option to pay their rent online, and their expectation to be able to handle this and other tasks digitally increases with every year," the report says.
The most popular building amenity is high-speed internet
When it comes to technology, nothing is more important than high-speed internet, especially now that more people are working from home.
"High-speed internet has remained the most popular building amenity for the last three years," the report says.
The most popular in-unit amenity
In-unit laundry and central air conditioning have topped the list of residents' most-wanted amenities for three years in a row.