As a housing provider, do you really know the changing priorities of renters a new survey study asks.
The new report from the National Multifamily Housing Council (NMHC) and Grace Hill of more than 170,000 renters in over 4,000 communities is designed to help rental property investors, owners and property managers better understand  the shifting priorities of renters.
The 2024 Renter Preferences Survey Report  sheds light on trends showing a mix of financial motivations, evolving expectations and the influence of remote work in the post pandemic era on renters.
"In analyzing this data, it becomes evident that today's renter is navigating a landscape of emerging technologies and practical considerations. While they continue to desire creature comforts, they also seek modern features and amenities that reflect a very mobile and connected lifestyle.
"This is evident in the strong interest in things like shared workspaces, with respondent interest growing from 35% in the previous survey to nearly half of respondents (48%) today, or high-speed internet, which 86% of respondents say is either very important or absolutely essential. Understanding these shifting priorities is paramount for property investors, property managers, developers and architects," the report says.
"These findings present an opportunity for policymakers to better appreciate that the vast majority of renters have a high level of satisfaction with their housing situation," NMHC President Sharon Wilson Géno, said in a release. "This information also illuminates the needs, both desired and necessary, of residents and the realities that housing providers face in providing homes that are the foundations for renters to build their lives."
The survey on changing priorities of renters, which is available for purchase here, covered the following:
Resident Demographics & Lifestyle
Financial Health & Wellbeing (*new in 2024)
Apartment Search and Touring
Technology & Connectivity Needs
Lease Decision Factors
Commuting & Remote Work
Apartment Features
Community Amenities
Pricing Expectations
Future Rental Behavior
Some Major Highlights of the Survey Report
Renter satisfaction and demographics of renters finds that, by and large, renters enjoy living in their rental communities and feel valued by their housing providers.
Most respondents reported that they agree or strongly agree (85%) with this statement: I enjoy living in my community. A majority of respondents also reported that they feel included and accepted in their community (86%), their property staff demonstrate a culture of respect and kindness (85%) and they feel their wellbeing is important to community management (75%).
The survey also revealed that, across income spectrums, three top factors contributed most to a renter's positive sense of community: neighbors respecting the rules; feeling welcomed by the community staff; and access to services that can enhance residents' wellbeing.
Here is a look at the demographics in the report and monthly rent. Much more is available in the full report.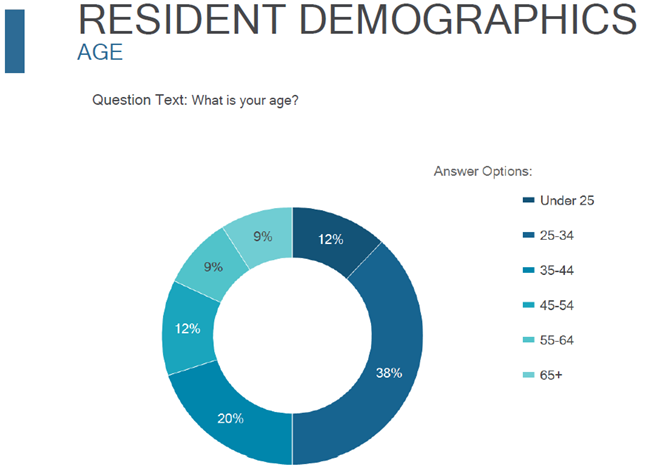 Remote Work From Home Continues To Be Strong
The changing priorities of renters shows up in remote work. The largest group (39%) reported they worked from home several days a week, followed by those who worked from home every day (31%), a few times a month (21%) and once a month or less (9%).
Most important, the share of renters who did not anticipate changes in their remote work frequency increased from 64% in the 2022 report to 73%.
Do They Stay Or Do They Go?
The survey shows more residents plan to stay longer in their current rental apartment or building, and fewer plan to purchase a home.
Also, the survey shows the most common reason for moving by far is seeking lower rent.
"This year's survey provides critical insights to rental housing providers about every stage of the customer journey," Grace Hill CEO Kendall Pretzer said in the release. "With our new interactive dashboard, organizations have access to a more enhanced and comprehensive analysis of the in-unit features and community amenities that are paramount to renters, informing growth strategies for 2024 and beyond."
About the National Multifamily Housing Council
Based in Washington, D.C., the National Multifamily Housing Council (NMHC) is the leadership of the trillion-dollar apartment industry.  NMHC provides a forum for insight, advocacy and action that enables both members and the communities they help build to thrive. For more information, contact NMHC at 202/974-2300, e-mail the Council at info@nmhc.org, or visit NMHC's website at www.nmhc.org.
About Grace Hill
Grace Hill provides technology-enabled performance solutions that help owners and operators of real estate properties increase property performance, reduce operating risk and grow top talent. Its industry-leading solutions covering policy, training, assessment, survey and data-driven insights are bolstered by years of real estate experience, in-depth service-level expertise and outstanding customer support. Today, more than 500,000 real estate professionals from more than 1,700 companies rely on talent performance solutions from Grace Hill. Visit us at gracehill.com.