Rental Housing Journal Seattle On-Site is Mailed Monthly To Puget Sound Apartment Owners, Property Managers & Maintenance Personnel and Published in association with Washington Association, IREM & Washington Multifamily Housing Association.
December 2022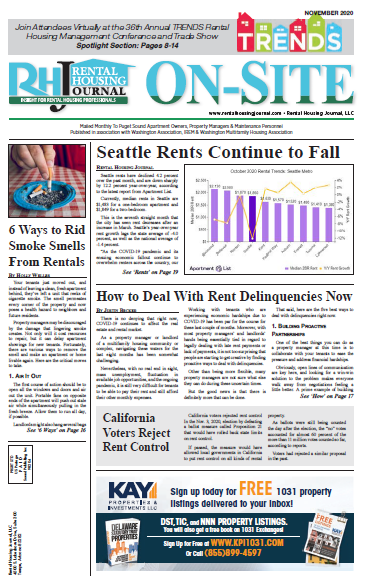 November 2018
The regular monthly print edition of the Seattle Washington On-Site Rental Housing Journal Puget Sound edition carries regular helpful, useful content for apartment owners, managers, landlords and maintenance personnel.
Each month the publication highlights legal issues, news and trends, maintenance issues and suggestions along with management help and advice. The publication stays on top of actions by the Seattle City Council as well as the state legislature.
The publications provide information such as Seattle Mayor Jenny A. Durkan's announcement of the official launch of Seattle's new "Renting in Seattle" program, a centralized resource for renters and landlords to find information, services, and help with navigating the rules and regulations of renting in the City of Seattle, according to a release.
This follows the passage of two pieces of historic eviction-prevention legislation by the Washington State Legislature that allow tenants 14 days (instead of 3) to catch up on late rent before losing their homes, allow eviction-court judges to use discretion and consider extenuating circumstances such as job loss or hospitalization, expand a mitigation fund to ensure landlords receive judgment payments promptly while giving tenants more time to pay, and limit the attorney fees tenants can be required to pay. An additional bill provides more notice of rent increases by requiring 60 days' notice of rent increases instead of 30.
Renting in Seattle program says small landlords can help preserve affordable housing
The program recognizes that landlords, particularly small landlords, have a vital role in preserving affordable rental housing in Seattle.
A portion of the website is written specifically to a landlord audience, providing information, best practices, and tips. Renting in Seattle is providing quarterly trainings to help landlords understand Seattle's laws.
Landlords and property managers also are encouraged to call the helpline with questions and guidance on how to navigate complex situations. Enhancing the rental relationship through education of both landlords and tenants about their mutual rights and responsibilities is an important goal of the program.
"We are pleased to see the launch of the Renting in Seattle website and the city's recognition of the importance of providing information, training, and assistance to landlords," said Brett Waller of Washington Multi-Family Housing Association in the release.  "Landlords play a critical role in providing housing to the residents of Seattle and keeping Seattle housed. The Renting in Seattle website will better assist landlords in accessing essential information to help increase awareness and conformity to new landlord-tenant laws specific to Seattle on an easy-to-use portal."
Seattle resources and stories.
Seattle Rents Edge Up Slightly Over the Past Month
Mayor Says New "Renting in Seattle" Program to Provide Resources for Landlords and Renters